Noticia
ICOBA PUCP: learn more about the health and life sciences research center of the leading university in Peru
The PUCP is committed to research through the Institute for Omic Sciences and Applied Biotechnology (ICOBA-PUCP). Learn more about this work through its new website.
Author:

Fiorella Palmieri
For several years, the PUCP has been conducting research in disciplines associated with the health and life sciences. In 2017, the Institute for Omic Sciences and Applied Technology (ICOBA-PUCP) was created to consolidate this approach. This is a research center where studies and technological developments take place for the pharmaceutical, biochemical, environmental and agro-industrial sectors, among other areas.
In order to present its research after four years of work, ICOBA launched its website. On this website, you can find 15 R&D projects, 20 academic publications and 4 defended theses that seek to provide new knowledge for technological innovation.
«We want to promote the work of ICOBA within the national and international scientific community,» says Dr. Fanny Casado, director of the institute. The scientist highlights that its three laboratories have equipment for PUCP projects and research conducted in collaboration with other institutions. «We also work with companies that seek to enhance the biodiversity of Peru,» she emphasizes.
Knowledge transfer
For Dr. Alfredo Ibáñez, researcher and former director of ICOBA, one of the most important ongoing tasks is the transfer of knowledge to students of different disciplines.
We want to promote the work of ICOBA within the national and international scientific community".
«ICOBA has the advantage of summoning researchers from the PUCP and foreign entities, since professors can use high-end equipment for their projects,» says Ibáñez. Students can even develop projects to improve the technological capabilities of companies.
Therefore, for the scientist, it is important that professors involve students in their research. "For example, we have two students who learned to operate 90% of the equipment. This is how human capacity is created," he says.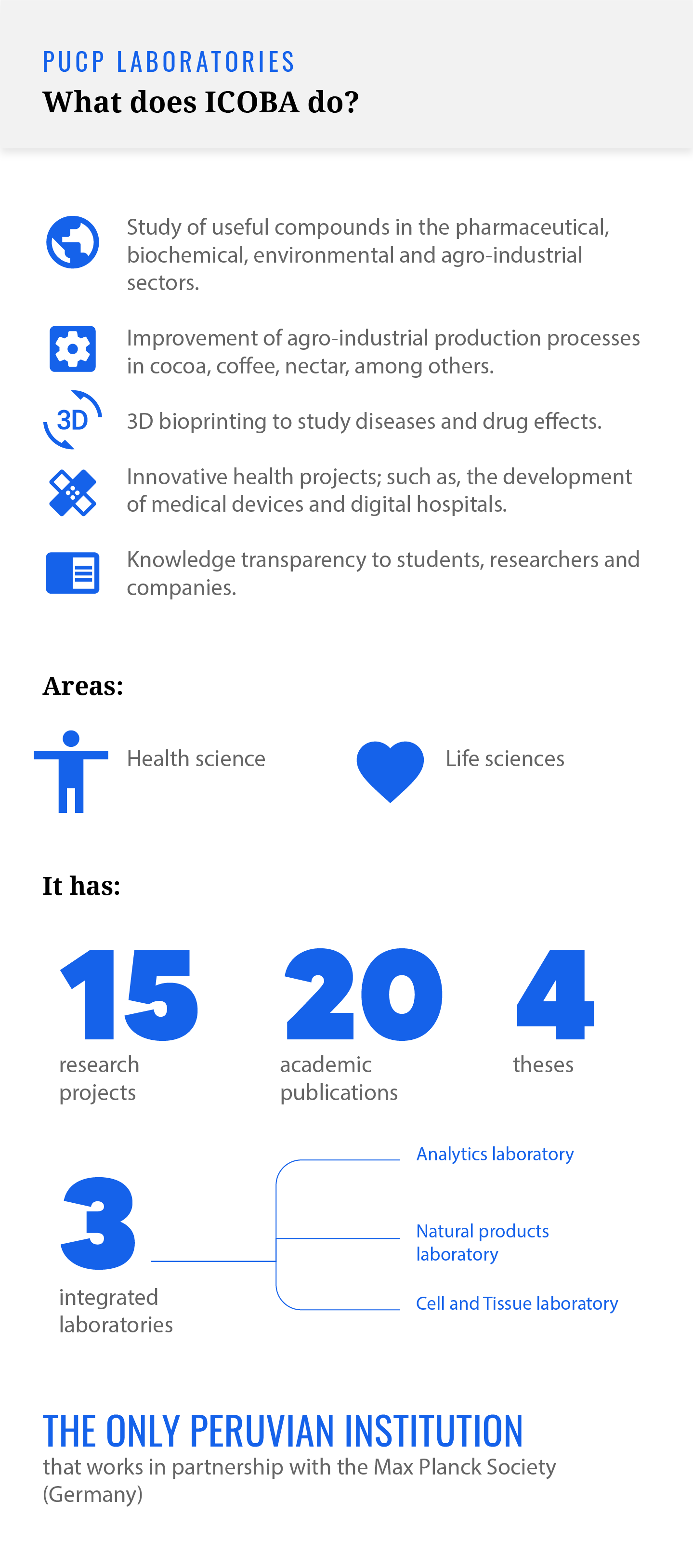 Contribution to society
Since March 2020, ICOBA staff have been taking turns working in the laboratories in different shifts to find solutions tackling the pandemic. Some of these solutions are the development of low-cost mechanical ventilators, the data analysis tool from COVID-19 patients, and the disinfection of personal protective equipment to inactive SARS-CoV-2.
Likewise, ICOBA has twelve specialists in different areas. Thanks to these multiple disciplines, initiatives could be launched this year; such as, the chemical-ecological study of floral aromas and pollinating insects in Peruvian orchids, the development of biotraps for potential agricultural pests and the obtaining of bioproducts.
All these research works will be available to external researchers, entrepreneurs and the general public. If you need more information or contact its researchers, you can click here.
The specialists in the development of analytical methodologies of ICOBA allow us to develop advances with respect to our biodiversity."
ICOBA is a modern chemical analysis laboratory, it has highly qualified professionals, and it has a good work environment where trust and the exchange of ideas prevail."